Prayer Starters: From May 6, 2023
Saturday, May 06, 2023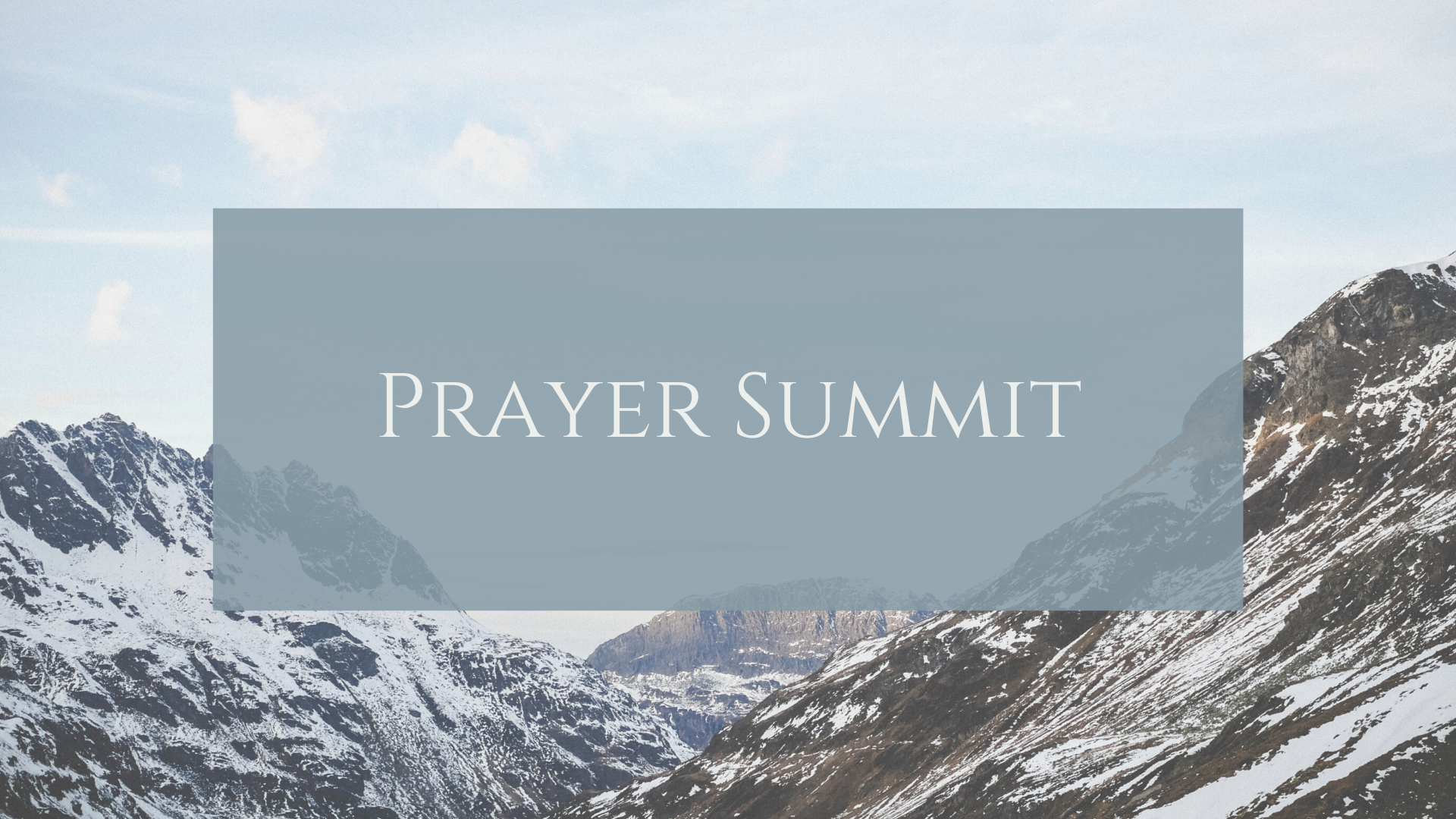 Prayer Guide
We gather on Saturday, May 6 for the most important gathering of each month to pray very specific prayers over a 3-hour period. Following the extended prayer meeting, we shall continue praying throughout the month of May using these prayer points every day during our private and family prayer times.
Please feel free to add to the prayer guidelines as the Spirit of God lays things on your heart.
There are always 6/7 sections that can take you an hour or more to pray through. Attempt praying for 1 hour if you can make the time. In the event that praying for 1 hour daily is not realistic for you at this point, attempt a whole hour of prayer once a week using these prayer points and any other ones that well up in your spirit.
If you are able, please come to the Prayer Summit meeting each month FASTING. You may have water tea or juice between the hours of 6 am and 3 pm.
This means we are encouraging fasting for all Prayer Summits. Prayer sessions are from Noon to 3 pm on the first Saturday of each month. Please note that some prayer points will be repeated as the Spirit of God may lead us from month to month.
1. Prayer of Repentance and Consecration. 1 John 1:8-10
Let's begin with a prayer of repentance and consecration. Sit before the Lord silently for a few moments and let Him bring to mind things you need to deal with.
Practice forgiveness by releasing those who have offended you
Practice asking for forgiveness from those who may have been offended
Scripture Text Meditation and 1 hr Prayer Session:
During this session please read meditatively for 5-7 minutes 1 Kings 21:1-29 and make a note of what pops out to you. We will use the verses and messages that stand out to you as prayer points.
Prayer of Praise and Thanksgiving. Psalms 149 and 150
Giving thanks to God and to others (showing heartfelt appreciation) is an open secret to Divine power. Let us praise God for His kindness to us His people. He provides, protects, and promotes us. Take a moment to think about the ways God has shown himself faithful. There is always something to be thankful for if we take the time to think
Itemize things you can identify as God working in you and praise Him
Give the Lord praise for how He provides for his church despite the gross darkness in the world.
2. Continued Church Growth in 2023
Read Acts 2:40-47
Only God can grow the church according to His own will.
Pray that the Lord adds 10 new families who are seeking a refreshing to the second service at Joy Fountain Church by His own power. Declare every seat taken
Declare that Joy Fountain will continue to grow as a life-giving church
Lift up the First Nations, Sikh, Hindu, Muslim, and other such communities where there are people wanting to become Jesus' followers but are being hindered by group pressure and threats of rejection
Pray for God to answer the secret prayers of those who are religiously oppressed in our nation.
Pray for Divine wisdom for people to know exactly what to do just like Cornelius in Acts 10: 1-4
Pray for revival in churches across Canada
3. A Righteous, Wealthy, and Growing Church for the Kingdom
Read and pray through Acts 4:23-36
In this account, the early disciples were arrested and maltreated by the authorities because they would not stop preaching about Jesus. There are many today who will stop at nothing within their powers to truncate the preaching of the gospel just like back then. They will use all manner of legal instruments, intimidation, and harassment to stop us. The Church back then got together and prayed to hand over the threats to God. The chapter ends with a powerful testimony of the entire congregation not lacking anything plus several people like Barnabas selling land and handing over the proceeds to the Church for their use.
We see a precedent in historical accounts as well where God made sure to bless Abram even before his name was changed to Abraham. This wealth was for the glory of God. We cannot be as effective as we must be if we are all poor.
"Abram was very rich in livestock, in silver, and in gold. 3 And he went on his journey from the South as far as Bethel, to the place where his tent had been at the beginning, between Bethel and Ai, 4 to the place of the altar which he had made there at first. And there Abram called on the name of the Lord."

Genesis 13:2-4 NKJV
Using the verses above and other verses of scripture let us pray the following requests:
Thank God for the promise of provision for the assignment God has for His Church.
Declare that just as Father Abraham was blessed by God, JFC will continue to have more than enough finances and every resource for the work of the ministry.
Pray that the Lord will add willing workers to His vineyard TRANSFORMING CONSUMERS to CONDUITS of grace within and outside the local church. See Acts 8:4
Pray for the Lord to touch hearts so that people become committed to giving first themselves totally to God and then out of all their material resources. See Romans 12:1
Pray that the Lord continues to work in us to be a people of Prayer, Purpose, and Power. See 1 Peter 2:9
4. The King's RESET '23
A reset is to make new. Each Tuesday in November 2022, we fasted and prayed for the King's reset in our lives and nation. A reset can occur in our lives because God is our Father, and we have a covenant with Him. A Divine reset can also happen in our nation because He is the Judge of all the earth. Glory!
Using the verses of scripture included and other verses you would like, let us pray the following prayer requests asking for a reset in the following areas:
Reset in the Church. Matthew 16:18
Reset in the leadership of the Church. Jeremiah 3:15
Reset in the Canadian and the US Governments. Psalm 2:1-8
5. "Casting Down Every High Thing…"
For though we walk in the flesh, we do not war according to the flesh.For the weapons of our warfare are not carnal but mighty in God for pulling down strongholds, 5 casting down arguments and every high thing that exalts itself against the knowledge of God, bringing every thought into captivity to the obedience of Christ, 6 and being ready to punish all disobedience when your obedience is fulfilled.

2 Corinthians 10:3-6 NKJV
Pray that the citizens of this great country will grow in unity against any semblance of authoritarian evil.
Use the authority granted us in Jesus' name over the spirits of sorcery and sorcerers operating like Balaam seeking to hurl curses and hexes against the people of God.
Pray against the works of satan and his minions
Pray the prayer of the "Random Arrow" prophecy: that those who refuse the counsel of God (while hindering God's work) like King Ahab be brought to swift justice.
Use the authority granted us in Jesus' name over the spirits of sorcery and sorcerers operating like Simon in our neighborhood and nation for the release of those whose minds are held captive. Acts 8:9-13, 1 Corinthians 4:4
6. Personal Miracles. Read Matthew 7:7-11
God, our heavenly Father is interested in the minutest detail of our lives. What troubles your heart? What difficulties are you facing that you need Heaven's intervention to resolve? God wants to show Himself strong on your behalf.
Make a list of your personal items and pray for a miracle where needed.
Ask for the salvation of family members who do not know Jesus
7. Give Thanks and Praise for Answered Prayers
God chooses to answer our prayer in the way He determines to be best for us. He is always at work and what may appear like a delay with God is never a denial. Let us be encouraged by this scripture
"Blessed be the Lord, who has given rest to His people Israel, according to all that He promised. There has not failed one word of all His good promise, which He promised through His servant Moses."

1 Kings 8:56 NKJV
Give praise for answers that are on their way already
Look out and pay attention to see areas where the Father is moving and answering prayers. Give Him Praise! Amen!
June 3, 2023, is the next Prayer Summit. It is the most important gathering of that month as well. Our prayer gatherings set the tone for everything else that happens in the Church community. Please plan to attend. See you there!