The King's Reset Day 8: The Father's Good Pleasure
Monday, January 16, 2023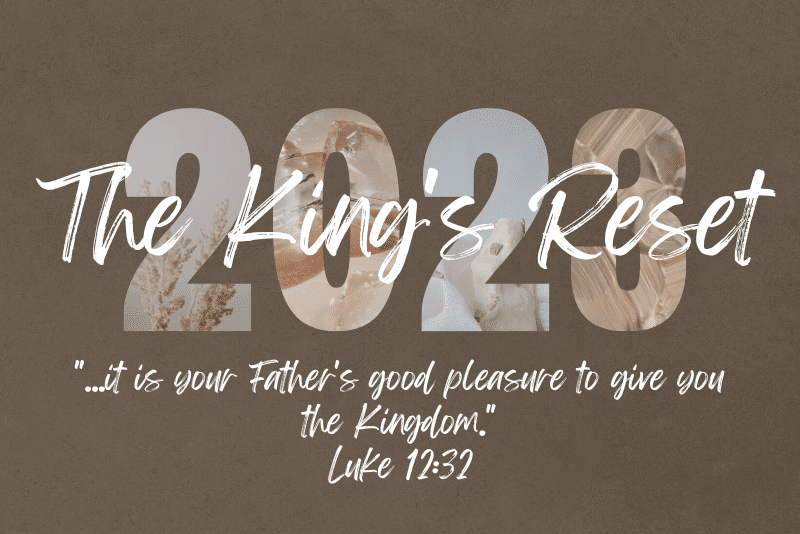 Welcome to Day 8. I hope you were able to use your personal and or family time on Saturday and Sunday evenings for some prayer and reflection however that applies to you. Quick disclosure: It is my birthday today so kindly pray for me. Asking for Divine wisdom and strength for the work ahead.
Jesus told the disciples and us today that "it is the Father's good pleasure to give you the Kingdom." What does this mean? First and foremost God is the owner of the Kingdom in which He reigns supreme as King forever. To give us the Kingdom means giving us access to live in and enjoy the manifest benefits of His Kingdom.
There are still many earthly realms operating as Kingdoms today such as The Kingdom of Saudi Arabia and The United Kingdom. Citizens of these kingdoms enjoy the benefits of being citizens of the Kingdom. Ambassadors on overseas assignments receive their emoluments from the Kingdom.
The Apostle Paul teaches that our citizenship as Christians is in Heaven. For this reason, we are ambassadors (See 1 Corinthians 5:19) of our Heavenly abode here on earth.
For our citizenship is in heaven, from which we also eagerly wait for the Savior, the Lord Jesus Christ, who will transform our lowly body that it may be conformed to His glorious body, according to the working by which He is able even to subdue all things to Himself.

Philippians 3:20-21
Folusho and I were in Toronto just after New Year's and had lunch with Jeff Christopherson, Executive Director of The Canadian National Baptist Convention. During our conversation, he mentioned how the Kingdom is mentioned far many more times than the Church. The Church (the family of God on earth) is the product of the working of God's Kingdom. It is a subset and representation of God's Kingdom. This is why He would have us seek His Kingdom first. I confirmed indeed that the Kingdom of God and Heaven appear a total of 86 times in the Gospels with Jesus Christ Himself accounting for almost 53 of those mentions. In Matthew's Gospel, there are 32 mentions. Is it any wonder that the final question the disciples had at the top of their minds for Jesus on His way back to Heaven was "Lord will You at this time restore the Kingdom to Israel?" (See Acts 1:6) here was Jesus' answer to them:
And He said to them, "It is not for you to know times or seasons which the Father has put in His own authority. But you shall receive power when the Holy Spirit has come upon you; and you shall be witnesses to Me in Jerusalem, and in all Judea and Samaria, and to the end of the earth."

Acts 1:7-8 NKJV
Essentially, it seemed Jesus was saying "gentlemen the Kingdom will be expanding not as you think, and not limited to Israel but must expand to the uttermost ends of the Earth and you will need My Power for that."
Family, you and I will never fully enjoy the benefits of the Kingdom of God without His power which we receive from the Holy Spirit in and upon us. We will never grow deeper in faith, nor will we have the encounters and Divine allotments that God has planned for us. Many Christian movements and denominations have parked their growth in limiting ideologies. And as a result, things go rotten and stale. Did you know that Paul also said a lot about the Kingdom? In fact, in his letter to the church in ancient Rome here is what he categorically states.
the kingdom of God is not eating and drinking, but righteousness and peace and joy in the Holy Spirit. For he who serves Christ in these things is acceptable to God and approved by men.

Romans 14:17-18 NKJV
If we receive the truth of the Kingdom and as a result, varied resources flow to us from Divine Headquarters to carry out the will of God, you and I and everyone in our faith community will aggregate a GOVERNING CHURCH. The Church in Jerusalem was a Governing Church. More on this Kingdom concept on Day 9 (tomorrow)
Prayer Session: "The Father's Good Pleasure"
Please use the worship song link and Scripture verses provided if you would like as fuel for a quality time of prayer.
Give thanks for our salvation in Jesus that provides us the only entrance into the Kingdom that you are gaining.
Read Psalm 63:1-8. Look closely at verse 3. Thank and praise God because He delights (good pleasure) in you. satan is a liar (John 8:48). God loves you period! Say that to yourself 7 times. Let's go: "God loves me, Period!" x 7
Pray Romans 14:17 for the Church in our City, Province, and Canada
Pray that Joy Fountain expresses and represents the Kingdom of God as a Governing Church.
End the session with thanksgiving and praise to the God who hears and answers our prayer.
Special Focus Prayer Against Evil | Vaccine Injury
Matthew 15:13. Pray in a fiery manner and with authority that every plant growing in people as a result of the vaccine and boosters be pulled up in Jesus' Name
Psalm 35:1-10. Lord fight against those who fight against and demean the poor and helpless
What to do with personal/family time
Saturday and Sunday evenings during this fast are a great time for parents, spouses, and children as applicable to gather for some life-giving spiritual activity. You may use a worship video for singing, reading scripture passages, talking about what God is doing amongst you, etc. Let the Lord lead you.
Prayer Schedule
Daily: Morning Prayer Online at 7 – 7.30 am
Mondays and Tuesdays: Evening Prayer In-person at Church Building 6 – 7 pm (Livestreamed)
Wednesdays, Thursdays, Fridays: Evening Prayer Online at 6 pm
Saturday – Sunday: No evening gathering online or in person – your personal/family time