The King's Reset Day 16: What are You Thinking?
Tuesday, January 24, 2023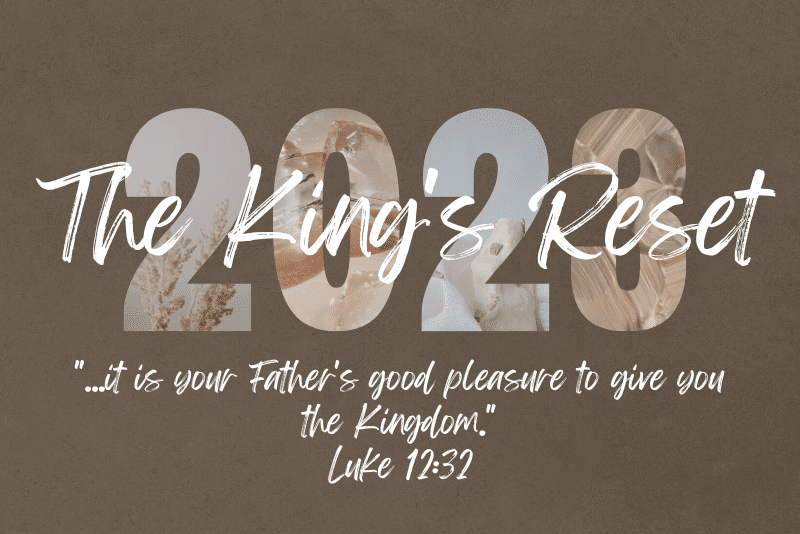 Friends, it is day 16 of our fast. Praise the Lord who has walked with us in His faithfulness since we began. In yesterday's devotional, we talked about how "the mind is the faculty of your spirit which in essence is the real you…"
The mind is where our thoughts are processed and actions are premeditated. Being a partaker of the divine nature automatically means you have also been given the mind of Christ. I can boldly say that the mind of Christ is the believers' heritage. It is now our responsibility to grow that mind with the help of the Holy Spirit. Also, if the mind is our thought center, life repository, and action headquarters then we must work on our thought life. How many times have you heard the question "what were you thinking?" asked of someone who has run afoul of a statute at any level? We ask that of our children and of anyone who we didn't expect to run afoul.
So what are you thinking of today? During a set season of fasting prayer, one of the most important things to address is our thought life. Adding fasting to a regimen of prayer helps bring our thoughts captive as we focus ultimately on the will of God. David says "I humbled my soul with fasting."
Solomon writes in proverbs about the value of the human mind as it relates to life:
Keep your heart with all diligence, For out of it spring the issues of life.

Proverbs 4:23 NKJV
Just like Solomon, placed by Divine Sovereignty in the lineage before Him, the Lord Jesus also clearly places everything about fruit-bearing in our lives on how our minds (hearts) function.
"For a good tree does not bear bad fruit, nor does a bad tree bear good fruit. For every tree is known by its own fruit. For men do not gather figs from thorns, nor do they gather grapes from a bramble bush. A good man out of the good treasure of his heart brings forth good; and an evil man out of the evil treasure of his heart brings forth evil. For out of the abundance of the heart his mouth speaks."

Luke 6:43-45 NKJV
Don't forget that the heart here as the Bible uses the word means the core of the human being just like when you say for example the heart of a city. What we mean by that is the center or the core of activity where everything is decided. This means whatever is happening in your mind is prevalent in your life.
The life, systems, and structures of any city are determined by what happens in the core of that city usually the seat of commerce and governance. Is it any wonder the Bible likens our spirit to a city? Wow!
He who is slow to anger is better than the mighty,
And he who rules his spirit than he who takes a city.

Proverbs 16:32 NKJV
Whoever has no rule over his own spirit
Is like a city broken down, without walls.

Proverbs 25:28 NKJV
May the Lord help us by His Holy Spirit take possession of our thoughts today and always in Jesus' name. Amen!
I learned a quote years ago on this matter that has stuck with me and it. goes like this: "sow a thought reap an action, sow an action reap a habit, sow a habit reap a character, sow a character reap a future." I think about that again this morning and I ask myself the question "what am I thinking?"
Payer Session: "What am I (You) Thinking?"
Please use the worship song link and Scripture verses provided if you would like as fuel for a quality time of prayer.
Again as yesterday let us give thanks and praise to God that we have been given the mind of Christ meaning we can grow in thinking like Christ
2 Corinthians 10:5 Let us bring every thought captive to the obedience of Christ
Psalm 19:14 Pray that we grow in replacing our thoughts with Christlike thoughts
Colossians 3:15-17 Pray the words in these verses over yourself, the pastors and leaders at JFC, and your own church
End the session with thanksgiving and praise to the God who hears and answers our prayer.
Special Focus Prayer Against Evil | Vaccine Injury
Matthew 15:13. Pray in a fiery manner and with authority that every plant growing in people as a result of the vaccine and boosters be pulled up in Jesus' Name
Psalm 35:1-10. Lord fight against those who fight against and demean the poor and helpless
Matthew 3:10. Pray that if anything is not bearing good fruit such as the "vaccine tree" that it be cut down in Jesus' name
What to do with personal || family time
Saturday and Sunday evenings during this fast are a great time for parents, spouses, and children as applicable to gather for some life-giving spiritual activity. You may use a worship video for singing, reading scripture passages, talking about what God is doing amongst you, etc. Let the Lord lead you.
Prayer Schedule
Daily: Morning Prayer Online at 7 – 7.30 am
Mondays and Tuesdays: Evening Prayer In-person at Church Building 6 – 7 pm (Livestreamed)
Wednesdays, Thursdays, Fridays: Evening Prayer Online at 6 pm
Saturday – Sunday: No evening gathering online or in person – your personal/family time