The King's Reset Day 13: A Chosen Generation
Saturday, January 21, 2023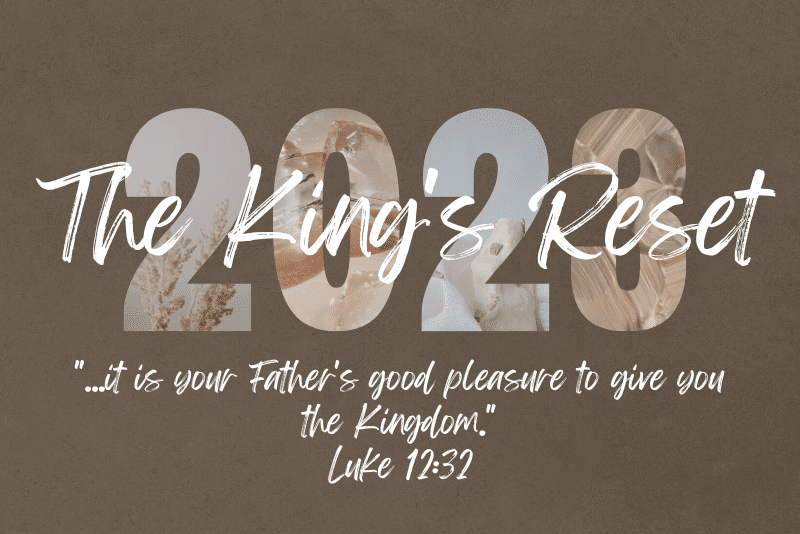 Welcome to Day 13. Yay, Day 21 is only 8 days away can you believe that? And I hope my math is correct.
"The Chosen" is an American religious historical drama about the life of Jesus directed and co-written by filmmaker Dallas Jenkins. The show is incredibly popular and according to Christianity Today as of July 2021, "has garnered more than 50 million fans in 180 countries with its engaging and affecting storytelling, even viewers initially skeptical that anything good could come out of the Nazareth of Christian entertainment have found themselves hooked by The Chosen's imaginative scripts and high production value."
The Bible tells us that we are a chosen generation. Apostle Peter writes about this truth in his first epistle to all followers of Jesus
But you are a chosen generation, a royal priesthood, a holy nation, His own special people, that you may proclaim the praises of Him who called you out of darkness into His marvelous light; who once were not a people but are now the people of God, who had not obtained mercy but now have obtained mercy.

1 Peter 2:9-10 NKJV
You are Indeed Chosen |
Jesus made it clear that we are chosen
You did not choose Me, but I chose you and appointed you that you should go and bear fruit, and that your fruit should remain, that whatever you ask the Father in My name He may give you.

Matthew 15:16 NKJV
One of the things that I think has really blessed me as a believer is that I have come to believe this without a shadow of a doubt. I'm not talking about being chosen or called to be a minister (which I am) but chosen to be a member of God's family on Earth.
Earlier on in my faith journey, satan would send an arrow of deceit in my direction stating that this was a fluke and I would believe it with debilitating effect. The simple solution to sustained doubt in this regard is to "simply believe" regardless of your circumstances. Why do you think satan works hard to nuke our confidence in the words of Jesus that we are chosen? The answer isn't far-fetched. It is a strategy that if effective limits and possibly destroys our ability to be fruitful. He chose you and anointed you to bear fruit and you responded. That is why you are a child of the living God. Because we are chosen we have been given great privileges and rights.
A Royal Priesthood |
You are a priest unto God. Your primary assignment on the planet is to maintain a connection to God. We are called to intercede for humanity in order for the will of God to be done on earth as it is done in Heaven. The priest first makes intercession for themselves because we all fail and then proceeds to make intercession for others.
In this manner, therefore, pray:

Our Father in heaven, Hallowed be Your name. Your kingdom come.
Your will be done On earth as it is in heaven.

Matthew 6:9-10 NKJV
A Holy Nation |
The world is unholy and will never be holy. In fact, it will only get worse. There is no doubt about that especially if you understand the meaning of holiness. To be holy means to live with a high moral or spiritual purpose. It is to desire and want to live in every way possible that is pleasing to God. Peter writes that we are God's own special people. Wow! A special people. I love that!
While we must not have the attitude of "better than thou," we must acknowledge the truth of God's word. A holy nation means exactly that. We are called to be a people set apart for our God. We have the mind of Christ and so should produce the acts of Christ. While we are not perfect, the work of God's grace is to take us gently by the hand toward perfection. The question we must ask ourselves is: how much are we cooperating with the Spirit of Grace?
For the grace of God that brings salvation has appeared to all men, teaching us that, denying ungodliness and worldly lusts, we should live soberly, righteously, and godly in the present age, looking for the blessed hope and glorious appearing of our great God and Savior Jesus Christ, who gave Himself for us, that He might redeem us from every lawless deed and purify for Himself His own special people, zealous for good works.

Titis 2:11-14 NKJV
Prayer Session: "A Chosen Generation"
Please use the worship song link and Scripture verses provided if you would like as fuel for a quality time of prayer.
Read Psalm 89:1-4. Give thanks to God for being part of the chosen ones of God. What a great privilege.
Read John 15:16. We are chosen and anointed to produce fruit. Pray that we produce fruit of every ramification such as the fruit of God's Spirit living in us and the fruit of being a blessing to our community and leading others to faith in Christ. Pray also that our fruit will abide.
Philippians 1:6 Pray that you will cooperate with the Spirit of God as He nudges you to do God's will.
Dedicate your home and work to become a place of fruit-bearing for the Kingdom of God
End the session with thanksgiving and praise to the God who hears and answers our prayer.
Special Focus Prayer Against Evil | Vaccine Injury
Matthew 15:13. Pray in a fiery manner and with authority that every plant growing in people as a result of the vaccine and boosters be pulled up in Jesus' Name
Psalm 35:1-10. Lord fight against those who fight against and demean the poor and helpless
Matthew 3:10. Pray that if anything is not bearing good fruit such as the "vaccine tree" that it be cut down in Jesus' name
What to do with personal || family time
Saturday and Sunday evenings during this fast are a great time for parents, spouses, and children as applicable to gather for some life-giving spiritual activity. You may use a worship video for singing, reading scripture passages, talking about what God is doing amongst you, etc. Let the Lord lead you.
Prayer Schedule
Daily: Morning Prayer Online at 7 – 7.30 am
Mondays and Tuesdays: Evening Prayer In-person at Church Building 6 – 7 pm (Livestreamed)
Wednesdays, Thursdays, Fridays: Evening Prayer Online at 6 pm
Saturday – Sunday: No evening gathering online or in person – your personal/family time