The King's Reset Day 12: Power, People, Pearls, and Places
Friday, January 20, 2023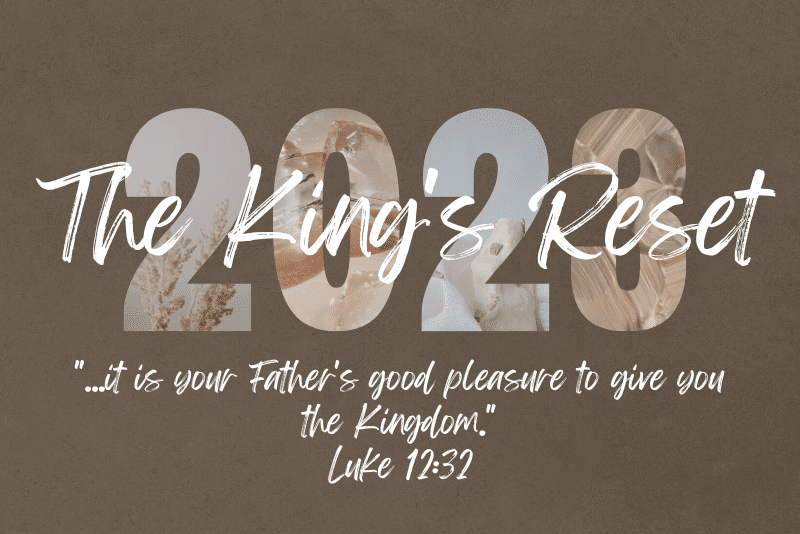 Welcome to Day 12. Divine Power is the foundation of The King's Reset. The Power of God given to His people by The Holy Spirit does not operate in a vacuum. There are things happening in this world today that only God can deliver us from. satan and his evil spirit and human minions are desperate. They hate humanity and will do anything to take over the world. That has always been the game plan from the Garden of Eden.
When the enemy came to tempt Jesus in Luke 4:5-6 what did he say about the kingdoms of the world? He said, "All this authority I will give You, and their glory; for this has been delivered to me, and I give it to whomever I wish." He was talking about the fact that Adam and Eve handed their lease over to him back in the Garden of Eden and now he can hand it to whomever he wishes. What a thief and a liar. Imagine someone stealing your stuff and then offering it back to you if you'd only worship them. That's a con of the highest con. Can I hear you say "a travesty indeed?" And, yes! that's exactly what the enemy has been doing.
Power and People |
The King's Reset ensures the power of God first works in and through people. Only God can change human hearts. The Holy Spirit on Pentecost Day first touched 120 people and then converted 3000 people to Jesus' followers then shortly after about 5,000 and on and on. Since then through the generations, billions more have come to know Jesus as Lord and Saviour. (See Acts 2 and 3). God is passionate about humans and wants all to be saved.
The Lord is not slack concerning His promise, as some count slackness, but is longsuffering toward us, not willing that any should perish but that all should come to repentance.

2 Peter 3:9 NKJV
God will raise a powerful community here on earth through whom He will confront the satanic pirates who seek world domination at all costs. He will use our resources if we are willing to allow ourselves as vessels in His hand to bring in victory.
Pearls |
The people who are touched by God must accumulate their resources (pearls) to advance the Kingdom of God dispelling darkness. I liken our resources to the commonwealth of God's kingdom. We see this pattern again in the book of Acts. Right after the outpouring of the Holy Spirit in Jerusalem and the birth of the Church, we see the church growing and many things happening. In Chapter 4 for the very first time, the accumulation of financial resources for Kingdom mandate projects is mentioned. People sold assets and brought the proceeds to the fledgling church to help those in need.
for all who were possessors of lands or houses sold them, and brought the proceeds of the things that were sold, and laid them at the apostles' feet; and they distributed to each as anyone had need.

Acts 4:34 NKJV
Apostle Paul encouraged the Corinthian Church in the matter of regular giving. In fact, he encouraged a weekly stock-taking exercise for the purpose of separating a portion of income for the Lord.
On the first day of the week let each one of you lay something aside, storing up as he may prosper, that there be no collections when I come.

1 Corinthians 16:2 NKJV
If you haven't already, will you make a decision to dedicate a portion of your income to God? As a couple, we have practiced tithing for decades and have seen God's faithfulness over the years. While there are many recent virulent arguments against this practice with the position that it is Old Testament hogwash the truth is that God will bless anyone who makes that intentional choice.
Have you already made that decision? Congratulations!!! You have set yourself up for generational blessings because "God is not unjust to forget…" If you have never you can start where you are and God will reward you accordingly. He is faithful!
Places |
Lastly, with the resources we accumulate, we can fund Kingdom mandates, expansion, and take places and spaces for the Lord. How do we take places? An example is our recent building where we now meet to pray and worship in person. God is interested in anointing spaces and places where His glorious Presence can be experienced by the lost and spiritually hungry through His family. The Kingdom of God wants more spaces and places on the earth (including the internet and cyber spaces) for people to gather, and where Divine Power manifests in a sustained manner. It takes our pearls (financial and other resources) to do this.
Therefore those who were scattered went everywhere preaching the word.

Acts 8:4 NKJV
But the hour is coming, and now is, when the true worshipers will worship the Father in spirit and truth; for the Father is seeking such to worship Him. God is Spirit, and those who worship Him must worship in spirit and truth."

John 4:24 NKJV
Have you considered dedicating your home as a place and space where God must be honored? The size and location are not important. God is looking for your space if you will let Him have it. He says He will come and "make His abode with us."
Prayer Session: "Power, People, Pearls, and Places"
Please use the worship song link and Scripture verses provided if you would like as fuel for a quality time of prayer.
Read Psalm 145:1-13. Give thanks for the resources God has given to you regardless of where you are in the journey of life
Read Haggai 2:6-9. Think upon the verses. What comes to you? Take some time to imagine yourself as a financial partner with God. Please don't rush this meditative process. What does that feel or look like to you?
Call in the wealth needed for the work of God. Ask the Lord to bless us so that we may care for the poor.
Dedicate your home (your living space to God)
End the session with thanksgiving and praise to the God who hears and answers our prayer.
Special Focus Prayer Against Evil | Vaccine Injury
Matthew 15:13. Pray in a fiery manner and with authority that every plant growing in people as a result of the vaccine and boosters be pulled up in Jesus' Name
Psalm 35:1-10. Lord fight against those who fight against and demean the poor and helpless
Matthew 3:10. Pray that if anything is not bearing good fruit such as the "vaccine tree" that it be cut down in Jesus' name
What to do with personal || family time
Saturday and Sunday evenings during this fast are a great time for parents, spouses, and children as applicable to gather for some life-giving spiritual activity. You may use a worship video for singing, reading scripture passages, talking about what God is doing amongst you, etc. Let the Lord lead you.
Prayer Schedule
Daily: Morning Prayer Online at 7 – 7.30 am
Mondays and Tuesdays: Evening Prayer In-person at Church Building 6 – 7 pm (Livestreamed)
Wednesdays, Thursdays, Fridays: Evening Prayer Online at 6 pm
Saturday – Sunday: No evening gathering online or in person – your personal/family time